I'm not sure what kind of sign, but it just must be a sign. So, late last night we were watching an old Eddie Izzard comedy hour on BBC - gotta love this transvestite - he makes me snort. I was fixated on the background he was prancing around in front of - all coppery, blue-y like light-stick blue, purple - really yummy. Today, after a chilly and windy trip to the beach followed by a bit of strenuous yardwork, I raced at the last 30 minutes of my LYS's special Sunday Blue Heron champagne reception. Mmmmm. But still pricey even on sale - I was talking myself out of it even as I touched all of it, then dug around in some bins assisted by a very energetic
salesperson, and laid eyes on this: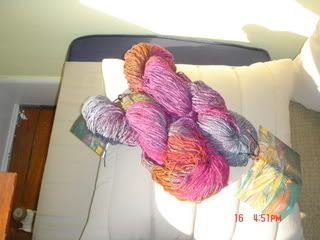 Exactly
the color of Eddie's backdrop! It's Petite Rayon RicRac, 475yds, in Water Hyacinth. With the same mesmerising glow, the sheen - I lost all control and bought two skeins - I see a drapey, shiney, Clapotis in my future.
Some fiber(Domestic Wool, 4.2 oz.) flew up off the shelf and into my basket even as I was trying to make my getaway,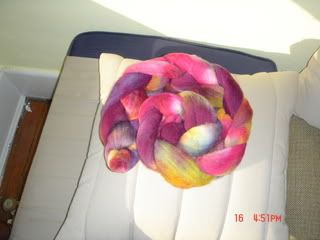 and I'm not sure how those four skeins of Cascade 220 at 20% off for buttonhole bags got home with me... I have no control. And no pride. But I have tons and tons of pretty yarn and fiber. So sue me.