My first time. I bought this cute little n.n. with my first sale order from Yarn Tree this summer, and finally got to use it winding up the sample of nylon they sent me along with the order. Think suntan stockings from L'Eggs - very long fiber legnth, funky to spin, but plied up pretty neat. This was the perfect skein I noddied - with the first I had an errant strand going the wrong direction that I tucked neatly away in the hopes that neither DH or the cats would notice. I had to stand in front of the computer screen staring at the directions while winding both small hanks.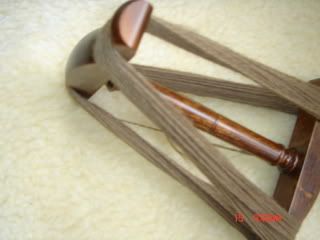 I read somewhere that someone from England was using jellies to dye her yarn, and we have many more Jello choices than KoolAid, so I tried some lime with this nylon. I got a faint tinge of green - not enough. So I pulled out my enormous used-to-want-to-be-a-pastry-chef collection of Wilton gel food colors, and applied some turquoise to the skeins: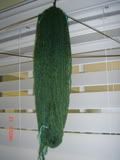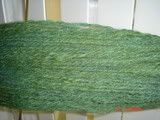 Fun and weirdly variegated and destined to be a Turkish String Bag for mom to use at the beach. Not turquoise, but fun anyway.