Or My Very First Fiber Festival. The Fall Fiber Festival of Virginia to be exact. DH, who is still more anxious for me to get a wheel than I am, drove us almost three hours each way through the nor'easter that sat over our area for two days before the Festival and continued through it. I haven't seen that kind of mud since the Grateful Dead concert I went to in the early 80s, but then we were TRYING to get as dirty as possible... Luckily I had my duck boots and good outerwear as did DH, so we slogged into the fields - he was much pickier about his route, I plunged in and got much muckier (and had more fun IMO).
The parking lot guy said only 30-40% of the vendors were there - at least there were some, and they must have waived the $5 entry fee because of that. We went through all the tents once, where despite the weather we were a hardy, happy bunch. Passed by the lamb sandwiches (!) to get fries which we ate while watching a dog run the sheep herding course. Do the same sheep get chased all day long? They must have been recently shorn, and it was a wet cold day, and it just didn't seem like they were having as much fun as the dogs.
Now it was time to buy - but really, it was so overwhelming, and there were sooo many choices - I'm glad I started small. I can't even imagine Rhinebeck - or how I'd survive it. You'd probably see me drift over your head in a cloud of fiber, or more likely, passed out from the sheer thrill and conquest of it all!
I scored lots of wool for my wheel when I get it, some alum for my pokeberry experiment, which, as fun as it sounds, will now be very small and will probably involve 2oz of silk/merino. Here's the loot: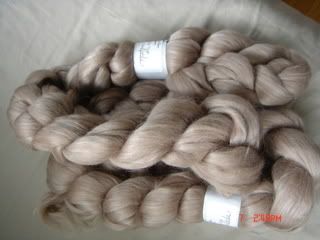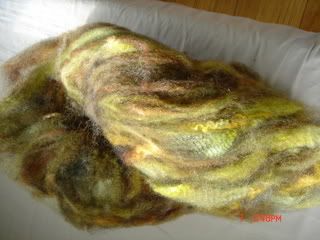 On the top is 70/30 Merino Tencel - super silky, shiny, soft. Just above and below in close-up, some sort of wool batts (?). Spread out, it makes a 16 inch square of messy, chunky wool. I got two each of these two colorways and look forward to playing with them. DH picked out the camouflage colored one.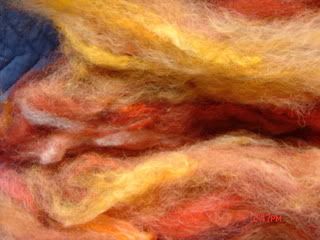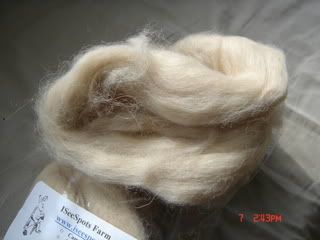 On the right above is some Llllllama - I just like to say it. My mother tells a story of going to a llama farm with dad, where she marched right up and kissed one on the lips (we're like that), and then saw the sign saying DANGER - STAY FAR AWAY FROM THE LLAMAS! Llllllama lama ding dong. Lllllama - say it with me. Below is two pounds of Corriedale Cross - not sure exactly what that means, but it's very soft and thick and chocolately - the photo doesn't show it richness. This will be my initiation to the wheel wool - I can just tell that it wants to help me learn to spin.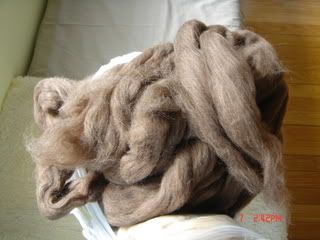 We did see wheels, mostly Louets, with a Kromski, Majacraft Rose, and finally a Lendrum. The sheep to shawl ladies, even though they had a lot of work to do, were very generous and entertained my very beginner questions about their wheels. I admit a fantasy of winning the woven shawl they'll produce. After coming home and agonizing some more about which wheel to buy, and almost pulling one of four choices out of a hat, I firmly declared that the Lendrum was my pick. With DH's credit card in hand, not wanting to make an anonymous order on the web last night, I am armed and ready to BUY IT AS SOON AS THE SHOP OPENS TODAY!!!