Flashing!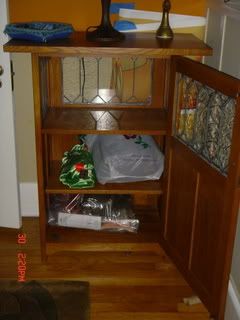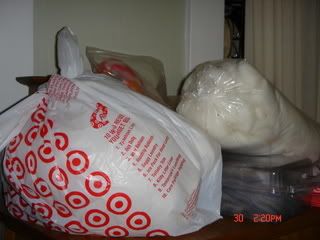 These first three photos are my fiber in its natural habitat - except of course the pile that's on my desk in a pretty box that I forgot all about... You see up there my dining room hutch-y thing that I may now designate as THE spot, the top of a chest in the office, and all over the bookcase in the living room. My spindles and in-progress things end up there, especially now that we have a kitten in the house!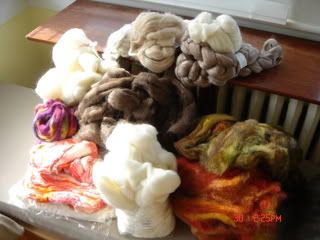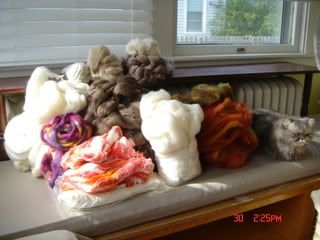 Group shots - this is almost all of it (except the stuff on the desk) and you can see that Indigo is supervising. She was quickly bored and quite irritated that I was using her sunny spot for my photo shoot.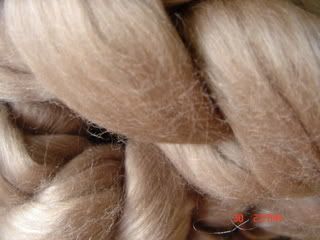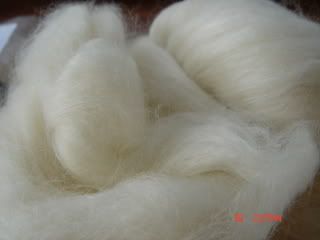 That's merino/tencel above on the left- so silky and shiny, and a pound of BFL on the right, waiting for my wheel to arrive (when oh when will it come?).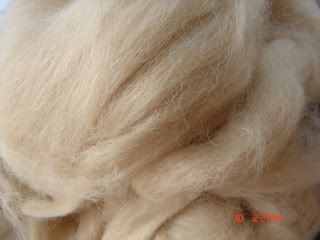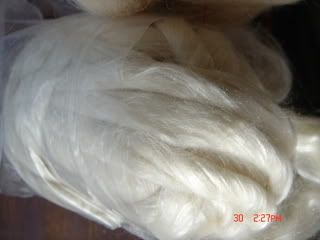 That's LLLLLama on the left and Bombyx Silk/Merino on the right - 4oz of each to play with.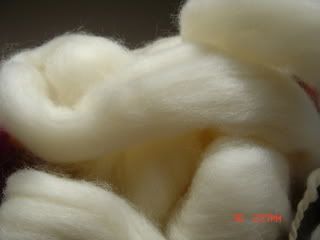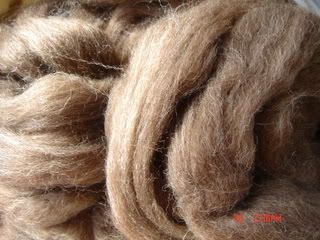 On the left is a half pound of Corriedale - I spun up the other 1/2lb into a nice two-ply on my drop spindles, and will probably do the same with the rest so I can maybe make a vest... And two pounds of chocolately, soft Corriedale cross - definitely waiting for the wheel, and I'll either make a bazillion socks or a vest for DH.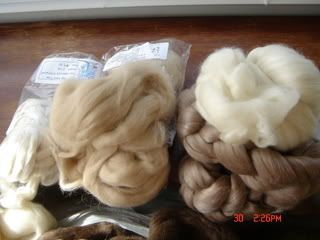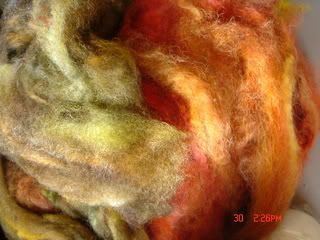 Random little bits of stuff on the left - some have their own closeups, and the white stuff on the top right of that photo is Tussah/Merino/Alpaca - so light and sooooo soft there are no words. On the right are those crazy wool batts I got at the VA Fiber Fest. I just love looking at them!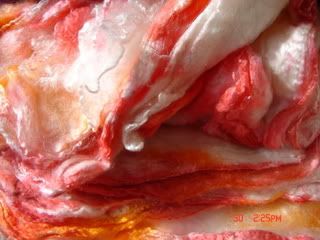 4oz of silk hankies I dyed with koolaid - I love this stuff and I'm definitely saving it for the wheel. I have another 2oz undyed to play with too.
I didn't get around to a group shot on the handspun and I'm going to edit this one more time later so I can add the missing fiber from the desk - it's all the pretty hand-dyed stuff!
How long do you think it will take to spin all this stuff once I get my wheel? We're going to family for turkey day and I couldn't sleep last night wondering if I should be ordering tons of fiber to take with me on the plane. Of course the wheel is going - silly question!