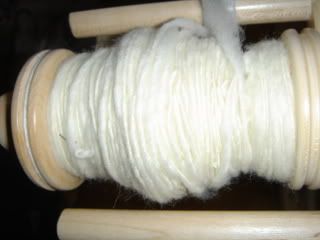 Much more bettah now! Who knew a rubber band could be so important. Once I got that back on, I was in business and managed to almost fill my first bobbin with Corriedale, spun at the lowest ratio, thick and thin, playing with long draw, inchworm - and mostly somwhere between the two.
While I clearly have a LOT to learn, it felt good and worked about as well as when I first started drop spindling. On the spindle I draft with my right hand, but it felt somehow more natural on the wheel to draft with my left, holding the fiber in my right. I switched back and forth - I haven't quite decided yet. I found myself speeding up with my feet when I got "in trouble," like joining new fiber, or trying to better regulate the twist. Do you hold your breath when you're concentrating? I do, and it's always a struggle to remind myself that breathing makes things so much easier!
Besides the wonderful act of spinning on my lovely new Lendrum, I'm still so darned tickled and surprised that it's living with me! I steal glances at it all the time, admire its craftmanship, daydream about pretty fiber - what more could a girl ask for? Great man, great house, great cats and now - a spinning wheel!!! Okay, a better job would make it all perfect, but one can't be too greedy, right? And I don't have to come to my job tomorrow - I'll be spinning!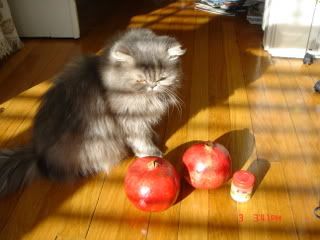 Here's a random photo for you... I'm easily amused, and recently got the biggest pomegranates I've ever seen - so gorgeous I had to take a picture. That's Indigo and a small spice jar for reference. And I had chat with a little old lady at the grocery store who was also taken by their beauty and told me she used to buy them for a nickel. We discussed the poster the grocery store was displaying that suggested submerging the opened pomegranate in water to remove the little jewels, and how that seemed so silly because part of the fun of the whole deal is to pick all those little seeds out. We also compared styles - do you eat the seeds as you pick them out, or do you stockpile until you've cleaned the whole thing and then eat all at once? This applies to picking crabs too. If you stockpile, you have to be prepared for everyone within miles to want your gorgeous pile of stuff. I've never been a stockpiler, always an eat-as-you-go type, but this time I picked a whole pomegranate while making dinner. Nirvana - I could have BIG spoonfuls of the crunchy little yummies instead of one at a time. Little sistah - I'm now a convert!