In spinning - amazing. I have a spinning wheel! Putting it together and then attempting to work it sans experience AND any sort of manual or good reference book caused me to work up a sweat real quick. So I summoned all my grownup skills through the evening and: took a break after assembling the wheel to eat something so I wasn't trembling with both excitement and hunger, tried just treadle-ing for a while, then played with some sock yarn to get the feel of it, and then the Wensleydale top that came with the wheel for a bit. In my most adult move of the evening, I stepped away from the wheel before I hurt it or myself, remembered the same feeling when learning to drop spindle, and spent the rest of the evening gazing at its beauty and marvelling (reveling?) at just the mere fact that a spinning wheel is now living with me!
So, without further ado, the promised first attempt - the craptastic* yarn: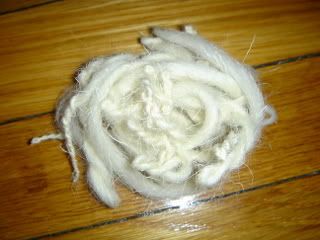 I had the sock yarn soooo tightly twisted, and loads of trouble figuring out the take up part, but zowie - I got some twist into some fiber and I'm off! Here's hoping Amazon gets me my Spinner's Companion real fast!
*The vocabulary I've learned through the knittyboards is so darned useful!