Just kidding (sort of) - it's here! (she's here? he's here? I'm not sure yet) The UPS man, who has been on my street 5 out of the last 6 times I was home for lunch, was nowhere to be seen at lunch today. But, here's what I saw when I hit my porch after work: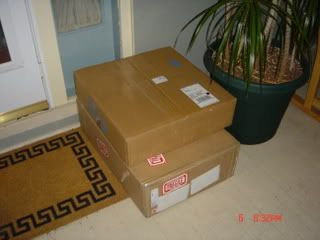 And after assembly, ta-da: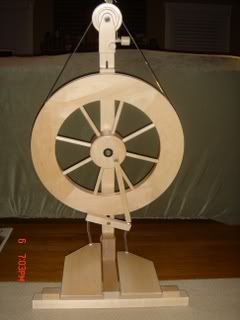 I managed to tie on some old sock yarn to play with, and I think I've figured out that the brake has to be set just so to get the yarn to take up. The Woolery sent 8oz of white Wensleydale to play with, so that's what I'll experiment with tonight.
I guess I assumed there'd be a manual included, but no. I'm a teeny bit intimidated by this - but why? It's MINE, I can do anything I want with it, and I'll most likely produce some craptastic yarn tonight (if any at all), and I'm home alone. Right? On to it!