For some unknown reason, I've been waking up at 3AM, forcing myself to stay in bed til 4AM, and then getting up and having what feels like a full day before I have to go to work. This has been going on since Wednesday - ugh. But I've gotten a lot done - some spinning, almost a whole moebius shawl, and the beginnings of another funky cable sample. Plus lots of housework too, in prep for our holiday trip to a sunny place where we get to see both my family and DH's in one fell swoop. Couldn't have planned that better - we save tons on airfare.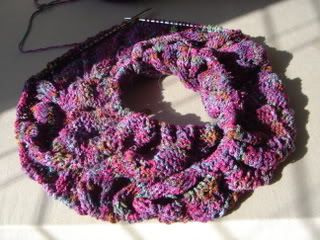 The moebius - what magic - incredible stuff here. I wish my brain worked like Cat Bordhi's - how did she ever figure this out? It's Blue Heron Petite Rayon Boucle in Water Hyacinth - only a few more very long rows to go. I'll finish this on the plane.
In spinning news, after trying the Welsh Top that came with my wheel (it wasn't Wensleydale as previously reported, but hey, it was at least a w sound), which is very coarse and hairy and more to Indigo's liking than mine, I went thin with some unidentified dyed roving. I think I'm so worried about putting too much twist in that I'm not putting enough. Don't the colors in that wool look remarkably similar to the moebius? I see a trend here, and it's unconscious so far.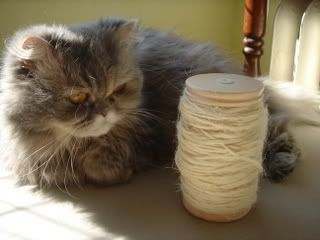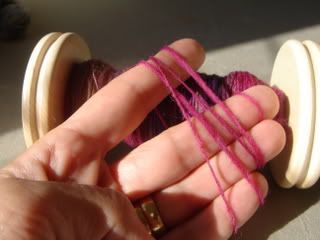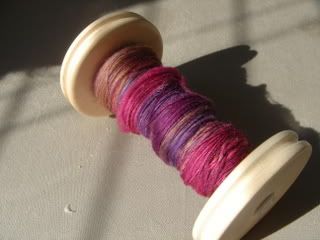 I've also discovered that white wool is incredibly challenging to photograph well, even when the sun finally did come out this week. Daylight Savings Time sure makes it tricky to find times to take pictures - it's impeding my blogging. The good news is that it ends two weeks early for the first time this year - big yay!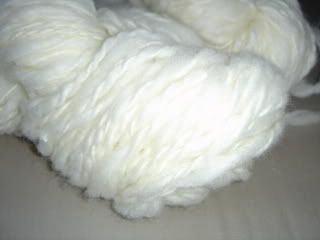 I've spent a lot of today cat proofing - Bluefish the wrecking ball hesitates at nothing. She jumped on the counter and up onto a shelf from there, which she rode down from the wall as it crashed into the lazy susan full of seasonings and the crock with all of my utensils in it. Amazingly, and lucky for the Fish, nothing broke. Can't imagine what trouble she'll get into while we're away.
In the final exciting news of the weekend, we have mice in our 81 year old house - imagine that. Mice bold enough to, in broad daylight, come up on my counter to munch on the cinnamon sugar that lives by the toaster. I didn't witness this - DH did, but I now understand it's not crickets that Bluefush lays in wait for in the kitchen, it's the mice she can hear behind the dishwasher. Fun. This is the first time in my whole life I can't call the landlord to get rid of the mice. One of the many things that reminds me I'm a grownup now. Not gonna think about it til after turkey. And I'll come home with a tan, which always makes me feel better, so I'm sure the solution will come to me then.