I guess it's winter now!
But you wouldn't know it by the 9.5 pounds of tomatoes I picked off my three Juliet vines this first weekend of December.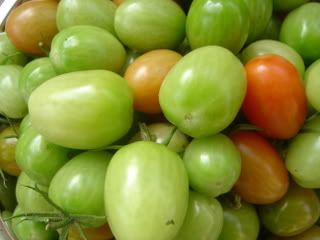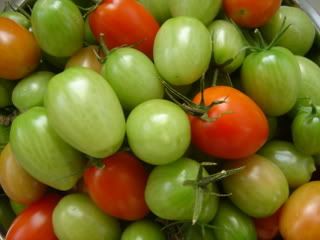 The bad news is that I picked them because we're probably done with warm spells for the year. The good news is that we're three weeks from days getting longer. Yes, most of them are green, and I have grand plans and at least $15 in new McCormick spices to pickle these babies. Feel free to chime in if you have any great tips or tricks. I do very little vegetable gardening as I'm the only one who'll eat them in this house, but I'm obsessive about my tomatoes. Grandpa and I loved to talk tomatoes and grocery shopping - he was the tomato man - and I loved to call him to tell him when my little seedlings had just started to smell like tomatoes - we were both so tickled by that and excited for the tomatoes to come. He even went into his grave two years ago with one of my homegrown slicers - felt more appropriate than a rose. I lost my Brandywines to blight early this summer, and the sweet little Juliets didn't kick into high grear until those sickly plants had been removed. Though I've enjoyed the little ones tremendously, I didn't manage to produce a single slicer, which means I didn't have a single perfect tomato sandwich this summer. I'm a purist - it MUST be white bread, a thick shmear of mayo, salt & pepper - that's it. It goes without saying that the tomato must be perfect, which has become an extinct thing anywhere. I've hit natural produce stores, farmers markets, and farm stands from the Outer Banks to DC and they all sell the same bland, odorless, tasteless tomato. Yuck.
Wish me luck - if these pickled green cherry tomatoes work, I could be done with Christmas gifts for a bunch of folks. Especially since I don't do Christmas. But that's another story.