Okay, so it wasn't morning, it was after work. But I do love the smell of wet wool. Makes me think of the time that, as a hurricane approached, my family was forced to pack up its tent village wet and drive home from Ocracoke with four adults and four children and two 50 pound dogs in a Bronco who were also all wet. Mmmm....memories.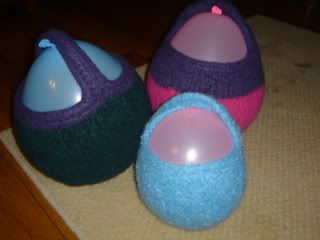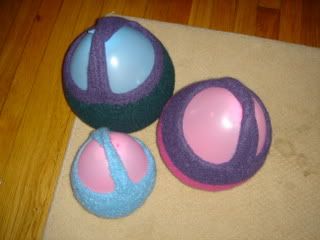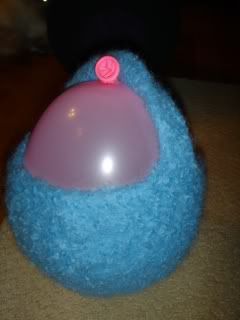 Anyway, it's those magical moebii (?) which smell all wet-wooly, and boy oh boy are they fun. The different yarns make for very different felt and so the fun just never ends. Then you add colors - wheeeee! I see bunches of these like tribbles all around the house. I adore the little turquoise one which is made with WoolPak - single strand of the 10 ply, I think. The surface of this basket is all pebbly and I'm mad for it. Bought it on my 40th birthday trip to NYC last January when we stumbled on
Purl
- it has been wondering what it wants to be ever since. I'm in the process of making another, and I'll do as many as I can with the 880 yards of this pretty turquoise. The others are two strands of the ever-wonderful Cascade 220 - reliable, sturdy felt. Crappy pictures because one of them had to make its exit yesterday to go on to its new home. When I go to pick up DH's birthday (25th - ugh) honey baked ham on Friday I'll buy enough yarn to finish the double basket (gotta get all errands done early Friday morning - first of eleven straight days I'm off with DH - don't want to waste a minute) and I think I'll try the one with many more twists soon.