Or any more ridiculous. Since I took this week between Christmas and New Year's off for the first time in my professional life, I have lots of time to be a) a slug in my pj's, b) a domestic goddess, and c) a mad spinner. Not bad - I know I could get used to this. DH is home with me too - nice. As I just paused to move the slide on my bobbin, I realized I was completely over-the-top silly, because: I'm wearing a new Christmas tie-dye from DH who finds the most amazing shirts at REI with my plaid flannel pj bottoms, I'm spinning up some lovely Wensleydale (I think), and we're watching the Neils (Diamond & Young) and Joni and Van the Man with The Band in The Last Waltz on cable. Could I be any more hippie-70s? For the record, I was born 10 years late in 1966 - but that's another story. For your viewing pleasure, and please do chuckle out loud: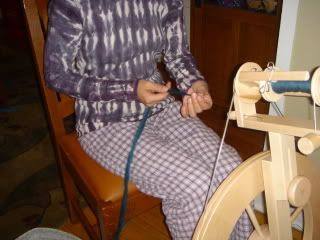 Nice, huh? I think you're allowed to wear prints together if they're in the same color family, no? Isn't my Lendrum pretty?
I'm having one of those David Byrne "how did I get here" times. It really doesn't get much better than this life I've somehow ended up with. I have the very best husband, a fabulous house, two great cats (gratuitous shots below), family, a spinning wheel, and all the other comforts I could ask for. Really - how did I get here? If you knew where I was 20 and even 10 years ago you'd be as astounded as I am. I do believe that, in all the crap, the messes, the failures, the new starts, I've earned this, just like I've earned the gray hairs I'm culitvating.
Just to keep up the theme, I just finished plying the yarn above (spun to the Band) with Richie Havens doing Freedom in the Woodstock movie. Too much! I think it's the finest plying I've done yet - I should make sure to have brilliant tunes on for plying all the time.
The best cats - Indigo and the Bluefish: