Or madness. I can't stop. I LOVE these things! They knit up uber-quick, they're mindbogglingly amazing, and they are so organic just like Cat describes them. I have moebius projects lined up as far as the eye can see. Seriously - it's cutting into my spinning time!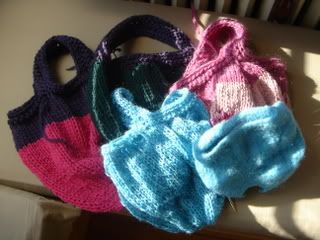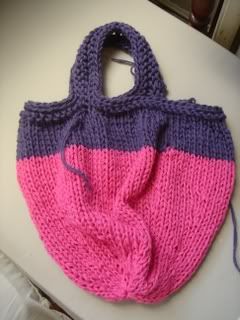 These are moebii 1-6, missing #2 which was gifted in the Secret Santa baloney at work. I didn't like it so much - I tried to be crafty and do math in my head (this is never, ever a good idea) and upscale the thing by half. It worked - to a point. I didn't make any scale arrangements for the decreases, and ended up with a bit lot of puckering. I also used only a single strand of Cascade 220, so it was pretty very flimsy felt. The recipient doesn't know any better - and also seemed completely indifferent to the fact that the basket only had one edge. And one freaking surface! Don't you get it? It's a MOEBIUS! Phew.
Anyway, these are all drying after their fun hot water adventure, and the next post will feature them in all their one-surface glory. I love everything about them - right up to blowing up a balloon inside them to dry them in a lovely round shape. The pale pink/purpley thing is a double basket that is thisclose to being done, but I ran out of yarn. And you know, it's just hard to get to the yarn shop when you're a working girl who's got chores and things to do with DH on the weekend. And especially now, with all the absolute worst crazies on the road searching frantically for that perfect holiday present - traffic hell and more than my patience can bear. (Whine) I'll live, it will get finished, and I'll knit some more with something else. The turquoise blob in the lower right corner is a first for me in felting - it fused together. After trying my very best to slice it open, I gave up and now I'll cut it into embellishments - note the circle already cut.. WoolPak sure felts fast, hard, and thick!