I arrived home from work tonight to find a mystery package at my door from Purl Soho. I simply couldn't imagine what it could be or who would be so savvy to order me something from there. Opened it up to find, inside lovely pale blue tissue, the most amazing, iridescent, apricot/pink Lantern Moon silk taffeta bag and a set of Blue Sky Alpaca dpns from India - made of Surina wood and packeged in a gorgeous little tin. From my sister-in-law, who is my new knitting buddy all the way in snowy Michigan. Outta the blue! And things I wouldn't have bought for myself. We did see her over Thanksgivng, and the two of us immediately flopped on the floor and dumped out the knitting bags for show and tell. What fun!
I have been spinning - all of the lovely BFL from Spunky Eclectic, which is now two-plied and drying from the twist setting party yesterday. This is all my wheel-spun so far - 8oz of corriedale that's plied in lots of ways, and the winey wool shown recently below.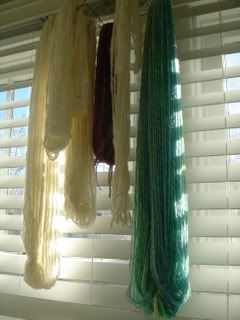 I'm still doing the too-little twist thing, both in plying and in the singles. I attempted a scientific method of splitting the roving into six sections and wrapping them up nicely, with the correct end to start with on top, and placed them gently in a big bowl next to my wheel. (DH strolled by and at first glance thought it was a bowl of water.) We know how good at science I am, so during the course of the several days I spun this lovely stuff, I needed the bowl for the pickling excercise, and simply lost complete track of which end was up on any of them. I achieved one stretch where the colors line up together pretty nicely, but the rest is all mixed up. Not that there's anything wrong with that - but not what I set out for. Gorgeous though! Now to figure out what to do with 220 yards of it. I'm simply not a knit hat wearer, except for my felted Bottoms Up Bucket hat that I'm wearing now, especially since my hairdresser took me veeery literally about "going short." We have a few variables for cutting my hair, the most important of which is how soon I'll be seeing my mom. Since I just saw her and it was long, (which for me means I need a brush) and of course, she commented on how she loved it like that even though it was winging out in the back and poofy over my ears. So I'm resorting to wearing a bit more makeup for a while to avoid looking like my hair's just growing in after chemo. Before and during shots - oh yeah - you forgot we were talking about spinning the BFL: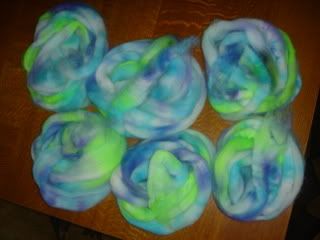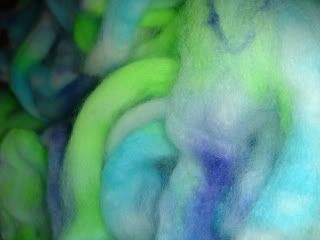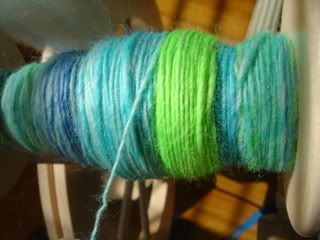 Haven't managed a good finished shot yet, and I haven't checked out wpi for any of my yarn, and I'm itching to make something with it. I can't bear the thought of felting fiber I've invested so much into making look like beautiful yarn - it seems like going backwards somehow. I'll likely do some sort of accessory-type scarf thing - nothing fancy.
I decided this weekend that one of the very few things as satisfying and gratifying as playing with fiber is home improvement/yardwork projects. We've been working very hard on landscaping for the past 8 months, and things are starting to look good. Come spring, they could look fabulous! I even, after lots of serious discussion with DH, did a leeeelte bit of Christmas decorating. We have no kids, we buy what we want/need all year, don't do organized religion, and so have no real connection to this holiday. I can't stand the pace and the stress in the air and the bad drivers and the general hysteria - it's been a while since we've done any decorating. I think the last time was in our apartment and we ended up draping greenery around the TV - pathetic. So anyway, we have this great house that we love, and in the end decided the only reason to decorate was because our house deserved it. Don't you hate when you've just read the whole story and then the blogger says "sorry, but I haven't gotten a good picture yet" so you have to come back to see it - as if! But, come back later, please - as soon as I have some light I'll snap one! And then don't be mad because it's really anticlimactic and silly that I'm so delighted by three wreaths with red bows, but I am.