That slapping forhead moment when you figure something out, right before you kick yourself for being so stooopid! I have no pride, so let me illustrate with a personal, it really happened to me moment:
The first time I attempted to ply some yarn on my fantabulous new spinning wheel, I spent a good 15 minutes trying to figure out how to tie the ends of the two singles onto the bobbin. I mean, I worked up a sweat trying to figure the darned thing out. I (unsuccessfully) poked the orifice threader thingy* in from the wrong side from every conceivable angle to grab those singles so I could tie them on the already situated, empty bobbin. I licked the end of the singles like you do when threading a needle and tried to poke it in that way. At this point I was stomping around and sighing heavily, and still sweating. Brain really hurting now. Here it comes - the lightbulb moment - why would tying on to ply be any different than starting to spin some fiber?? You know, like use the leader and thread it through the right way? Luckily, one of my other favorite pastimes, besides the obvious fiber ones, is to laugh heartily at myself. You can bet that, after I cooled down, I had a good belly laugh.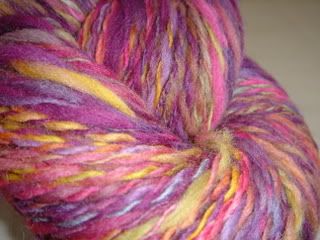 This is my latest yarn - some domestic wool that I was trying to spin thin. For some reason I'm terrified of putting in too much twist, so I often put in too little. It's not so bad, pretty colors, and I used a bit I had started on my drop spindle to finish two-plying about 94 yards of it.
I am a very unscientific person, and by that I mean that I keep no notes, am known to knit a whole project with the wrong needles because I thought they looked like the right ones (currently, a moebius bag to be felted), couldn't tell you a damned thing about past projects, and get to the end of recipes to find something like "now add the reserved sugar" from way the hell back in step 2 where you put it all in already. But I'm making strides to keep better track - behold the Notebook of Spinning (wah -haaaaaAAAA):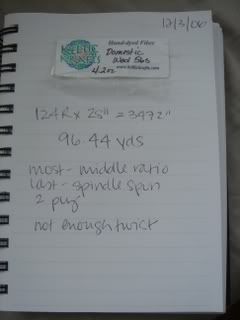 I'm quite proud of it. It lives in the living room, the same room the wheel lives in, and already has three pages filled! See how clever I am? I taped the label from the bag of fiber on the page! I feel so organized. It just goes to show you - it really IS the little things. I'll get a lot of mileage out of this notebook.
*Hook - it's called a hook! I knew it would come around again.