Not really - I'm having waaaaay too much fun. May I present the latest moebius basket, BUNS!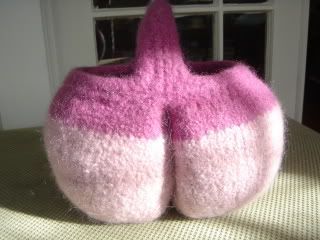 Cat Bordhi describes this as anatomical in her Second Treasury, and I did consider the bare bum-ness of the pale pink when selecting colors, and I couldn't be more pleased with the results. It's the first time I've ever knint with Lamb's Pride - pretty nice stuff, and double-stranded on 13s it makes for a very sturdy felt. Stands up on its own. Hinies, IMHO, are always fun. (How in the world do you spell that nickname for fanny??) I have another on the needles and one waiting in the wings - I can't stop.
I even managed to do the teeny tiny bit of finishing required to make these socks an FO - finally. Made a pair for twin sis for our big birthday last January and then cast right on to make the exact same pair for me from the giant bag of Elann Esprit sock yarn I bought a ton of for a project it was absolutely wrong for. They've been moving between various knitting piles, and somehow ended up in the active pile in the corner of the loveseat I live in. Two ends to weave in - what have I been waiting for? It's a pattern from Interweave some time ago - don't ask, I don't remember. Slouchy socks - very comfy, and it's hard to beat turquoise anything.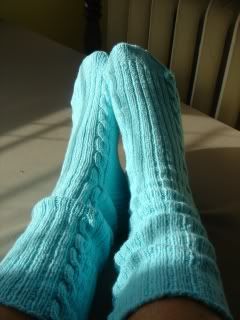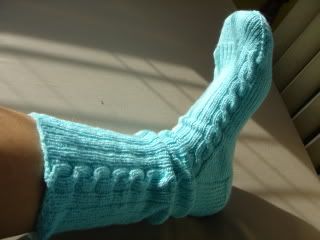 Hohoho and merry merry to all - slugfest continues here through at least tomorrow!