Ketchup
Get it - like the Fox Force Five Girls joke? Anyway, let's just say I'm getting caught up since Slugfest '06 here at the Dream. I typically scrimp and save my vacation days, but I may make it a regular thing to take that week between Christmas & New Year's - even though it felt selfish and indulgent, it felt goooooood. I think America should just close down in December - what real work gets done in the middle of the collective hysterical mania of America during the season?
We've (I've) been making sure the definition of Slugfest is well defined for each sex, and I do believe it's different - DH's looks more like sitting still, while mine looks like not going to work, making yarn and delicious food, taking care of the cats, the house, and the man, while yes, also managing to nap. A lot. All good - and better than being at work. Amazing how much my routine got reset not going there for so many days in a row. Not to mention by staying up late on New Year's Eve.
Which brings me to the reason for staying up all the way to the ball drop - the Cherry Tree Hill midnight sale, where, for the very first time in my knitting life, their Silk & Merino anything was discounted - 50% discounted. Well worth keeping my ass upright, and at 11:57PM, I scored 6 hanks of the S&M worsted in Silver Streak for nothin, plus a couple of Orphan bags for fun. Like I need more yarn, right? But I'd marry the S&M yarn if I could I love it so much. I did this sweater from Vogue a few years back and it's soooooooooooooo soft. Someday I'll redo the crochet edge on the neckline to make it a little less droopy.
I spun a lot, and made my best yarn to date. Funny how that works, eh? Each time I get a little better - imagine that. Here's the evidence: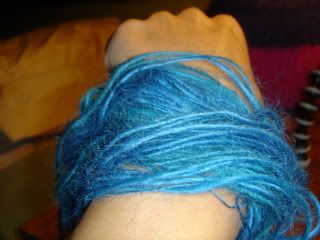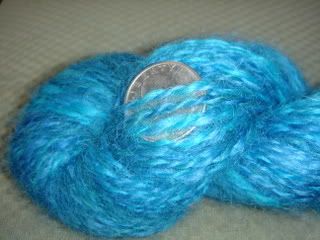 This is the absolutely gorgeous South Seas Wensleydale from my most generous Spinning SP, in sngles form, ready to Andean ply the last of a bobbin, and with a quarter for scale, two-plied. Here's some mystery wool in teal from the very same lovely pal - I'm quite pleased with it, also two-ply.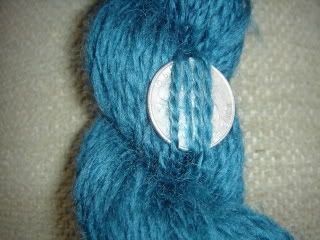 The strand at the very left on the quarter is my favorite and I aspire to have it all look that way. Both of these are my finest to date and were spun on the middle ratio on my Lendrum. I'm fixin to try the highest ratio soon - after I finish my silk hankies. More on them later.
We also, smack dab in the middle of Slugfest, tore out some awful built-in window benches in our sunroom and painted it a much more organic and less offensive yellow ochre-y color. (I'm being VERY liberal with the "we" here - remember the Slugfest definitions above.) It now fits in with the rest of the house like the Sesame Street song that keeps going through my head - it now belongs to the house. Before & after: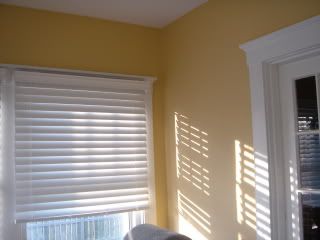 Terrific how such a little change can make such a huge difference - now we have to figure out how to furnish it.
Let's see, I'm almost done with the Slugfest recap- stay with me another minute or two. I think I'm ripening with age, and witnessing the Gerald Ford funeral events during Slugfest made me more keenly aware of that than ever. Ford was really my first President - the one I was first aware of besides Nixon, who I knew at eight was a sneaky guy involved in Watergate from hanging around with my hippie aunt. When I was lucky enough to convince the babysitter to let us stay up late, I laughed at Chevy Chase on SNL tripping and falling around the Oval Office impersonating Ford. Anyway, I spent more than half my life rebelling against whatever I could come up with... perhaps the result of being the oldest of an original Navy SEAL dad and a very creative & liberal mom. My favorite t-shirt and high school senior yearbook quote says "There are no rules," and I made sure to wear it at every chance to torture dad. Today, zooming toward my 41st birthday, I'm amazingly all about the rules. I know, I was talking about the Ford funeral, and what I have to say about that is that what struck me most, watching all the ceremonies, was how very much and very deeply I now "get" and appreciate the honor and the respect and the ceremony of the military - something that for whatever reason was so much harder to see when I was younger and is more and more obvious as I get older, and especially since my father is gone. Seeing the Navy Chief piping the side on the bosun's pipe at the WWII Memorial knocked my socks off, because dad played one, and my brother played it at his service. Whew. Enough of this.
So Happy 2007, glad to finally be here and out of the mire of December. Silk hankie singles are filling a second bobbin now and before long will be shiny, slubby, thick & thin yarn for what else - a Clapotis! And now I must get to a promised cable swatch for my cool designer - ttfn.