I could get used to this. Too bad I have to wait for President's Day to have another planned long weekend. The man had to travel for work yesterday, so I had a glorious span of time all my own. Since I'm still waking up at ridiculous hours, I got busy very early with all that silk. That pretty, pretty silk that I've been having a hard time keeping my (dry) hands away from, and have shown off at several opportunities, and only tied once when it came off the skein winder. It is suggested in all spinning references I own that you tie your skeins securely in several places - at least two. Why I can't possibly do such a simple task is beyond me, but yes, you know where this is going. I've invested a lot of time and energy into this silk, in a good way, and so after marinating for a few days, I finally decided Sunday night that it needed more twist if it was to grow up to be the four-ply I wanted it to be. So I rigged up the winder behind the wheel and attempted to put that skein back on the winder. It looked perfect - until I untied my one spot, and that damned end would not let go of the rest of the hank. You know that figure eight thing hanks are usually tied in? I somehow retained a twist, and almost two hours of cursing, yanking, re-winding, over/under-where-the-hell-is-that-going-now hell ensued. I only put it down because my arm was falling off from trying to hold the hank. Not only was it all tangled, those underspun areas are very grabby, making it look like tangles when really it was just sticky singles. Ugh.
So, Monday morning, back to the hank. I had coffee and most useful assistance from the cats, and we got sorted it out. And so I got it back on the bobbin after twisting the bejeezus out of it. All good. I even got it into a center pull ball over a tp roll sleeve. Then I got nervous that I'd wound it too tighly and it would go limp, so I hopped right back on the wheel and commenced the four-ply. Wheeeee! Until the center pull ball got lazy and I started pulling out that yarn barf from the middle - all energized and clingy and hanging onto itself for dear life. At which point I stepped away again. It's mocking me from the other room right now - I suspect it will be conquered tonight, and let me tell you, the Clapotis it turns into better be spec-freaking-tacular.
In the middle of all this silk excitement, I managed to finish a pair of socks that have been on my needles since last April, knit for two hours at my LYS with my new friend and her regular Monday gang, where I started My So Called Scarf with the BFL I spun up a while back. MMMM. What a lovely pattern - amazing, again, what one can come up with using just two little stitches. And amazing too, all those brains that come up with this stuff.
These are Wendy's generic toe-up socks in Lucy Neatby's Merino Dream, and I learned two new things on these plain stockinette socks - two at a time on two circs, and from the toe up for the first time. I was pretty queasy about the short row heels, but wore them today and they're sooooo comfortable.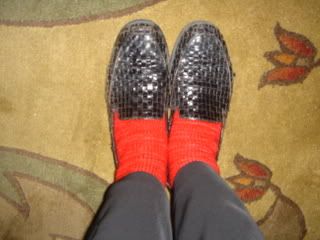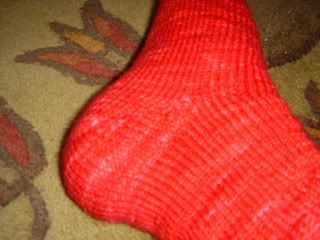 I think I'll go back to one-at-a-time on dpns for my next pair of socks - less fiddly and perhaps more relaxing. I have some lovely Mountain Colors Bearfoot to play with.
Off to see about that silk - think good thoughts!