It's been all about the silk, all the time here at the Dream. Since New Year's Eve I've been working on 4oz of silk hankies I dyed with kool aid this summer. It takes a lot of time and physical effort to get these babies stretched and prepped for spinning, and when they're all predrafted and wound into little bundles (next time, I won't wind - just puddle little piles) they look spectacular, like this: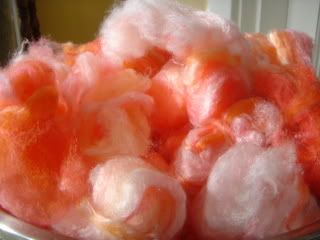 Cotton candy clouds, so light, so shiny... Singles looked like this on my first bobbin,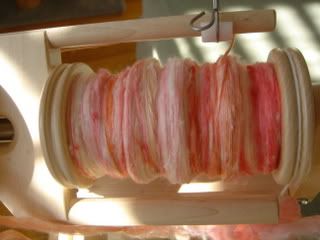 which was funkier and slubbier than the second when I started getting the hang of it a bit more. Took me a week to spin it all up, and two more nights to ply it. I've got gobs and gobs of the stuff, and once it relaxes a bit this morning, I'll wind it into a skein to see what kind of yardage I've accomplished. It's pretty fine - maybe between lace & sock weight - and I may ply it back on itself once again for something more substantial. We'll see. However it turns out, I love it, and it's my first official dye job.
Speaking of dye jobs, I've saved those pokeberries in the freezer since this summer, and I've got 2oz of Bombyx Silk/Wool from The Yarn Tree cooking up right now. I'll let it simmer until I have to get ready for work, and soak in the dye til I get home tonight. Cross your fingers I get something reasonable. It looks quite magenta in the pot.
And one more moebius for you - this one has a TRIPLE twist! It's amazing how quite simple these babies are once you get the cast on down. It's Lamb's Pride Worsted on size 10s - single stranded. I don't have much sense about stripe and/or color placement, but it's good and fun enough to live on my dining room table as a centerpiece for the time being: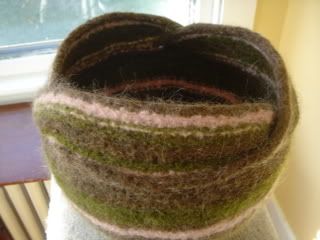 Is it only Tuesday? How in the world will we get though a full work week?