Hear Tom Hanks chanting FIIIIIIYYY-YUH when he finally manages to get his fire started in Castaway. Picture me jumping up from my wheel this morning like a gymnast, into that dismount, arms raised in a V, back arched, I did it celebration (I'm known to jump up from my desk in that pose when I do something smart, or off the couch at the end of a row with the right number of stitches in lace)! And then I danced around the wheel like it was a campfire, chanting to my silk, singing my powers to the cats before work this morning. Can't think of a better way to start the day than to tame those silk hankies – I can use that success all day! I did it – I now have 4-ply silk yarn, ready to begin its life as a Clapotis soon. I just didn't have the energy to get to it last night, particularly after starting to watch the typically entertaining first American Idol show of the season – ick. So they had 10,000 people at that tryout, and we saw what, 12? I couldn't take the pseudo-drama of it all, so I turned it off. Don't need personal interest stories at this stage, thank you very much.
But the silk. Oooh, the silk. The yarn barf was there waiting for me this morning, and I was resolved to get it done. In recent years, every thing in my life seems to be there to teach me patience, calm, and peace, and these hankies sure did their part to humble me a bit more. I didn't get my brain in the right place to start, so I struggled and cursed for about 15 minutes trying to get it sorted out. Had a little talk with myself about my short fuse, and took some nice slow, deep breaths. Scissors were briefly involved, and with great calm intention, I slipped the remains of that center pull ball over my wrist and FINISHED!
Did some more talking to myself about how satisfying it is to work calmly and determinedly through a problem, and how much, much simpler that road is than my usual head blowing off my neck routine. And about the fact that this spinning thing is about pleasure, and my head blowing off doesn't qualify as pleasure, so I'd better work on that. I'm listening, universe!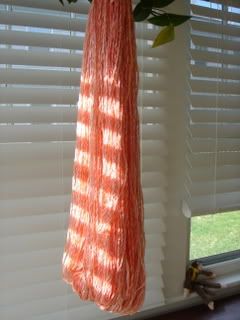 I'm getting a spinning callous – on my right forefinger, where the fiber flows over it as I'm drafting or plying. The silk is incredibly strong, and perhaps the callous got kick-started by all the hankie stretching. I like battle scars, but it's a real PITA when working with silk, and my cuticles-gone-wild didn't help so much either. My fiber addictions have seriously cut into my manicure time – who wants to wait for nails to dry when I could be spinning? Or knitting. I'm down to just using that fabulous Crabtree & Evelyn scrub and moisturizer set anymore. It may sound like I've been whining about al this silk, but it's been great fun to experiment, and I've been very single-minded about it - just wanted to see what it could be!