Finishing things: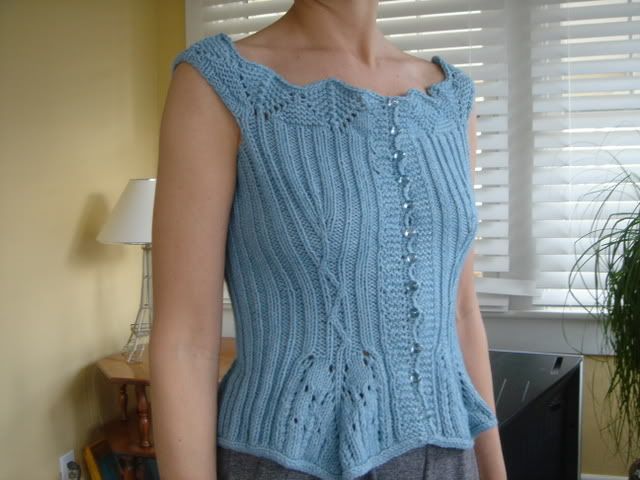 This is Annie Modesitt's
Ribbed Lace Corset
that I started oh, in February of 2006. It's been forgotten in the pile since I bought the cute little buttons. Only I didn't buy enough buttons, because, in my typical boneheaded way, I set out for them without checking how many buttons I might actually need. So of course I came home four buttons short, and I'm just too lazy to go all the way back to where they came from. I even bought different buttons when I passed close by a fabric shop last spring, but I didn't like them, so it sat some more. Until my LYS owner asked if she could put it up to try to sell the Roma that she just wasn't moving. Jaeger Roma - lovely stuff, soft, good stitch definition. I fiddled with it again last night, and after sewing up the buttonholes that were never going to work, I crocheted on a little button band and I'm quite pleased with it. It's way more bare than I ever wear, but one of the ladies at knitting this morning told me about Hollywood tape - do you know about it? I was picturing her taping up her boobs, and I had a not-so-pleasant experience with the tape on the Victoria's Secret stick-on number, but this is double-sided tape that works skin-to-fabric or fabric-to-fabric. Very interestink - I have an abnormal fear of my bra straps showing, so I'll be looking into the stuff.
And these: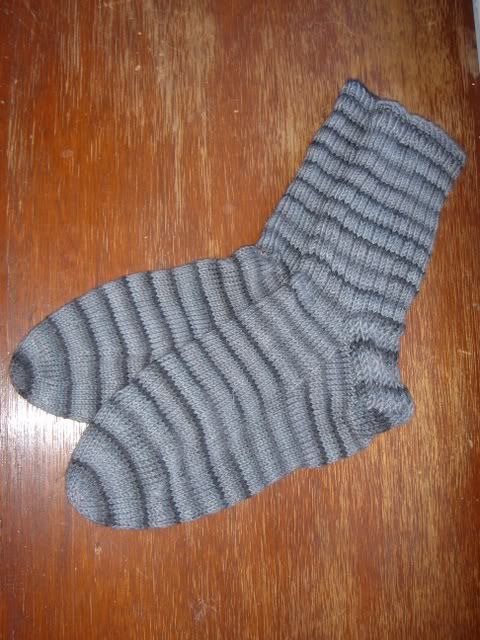 Socks for the man, who from now on I think I'll call Captain America, or CA for short. He's in security - serious, so you can get out of bed in the morning security, and he takes it very, very seriously. If I telly you any more I'll have to kill you, so know that you're safer because CA is out there protecting America. So I made these socks for him maybe 18 months ago - never wove in the ends. What's wrong with me? Upon inspection after finishing, I either changed needle sizes for the second sock or lost my mind on gauge, so yes, the sock in the back is a bit smaller. He'll wear them, and he'll damn well like them too!
ETA - Holy cow, I just realized what socks these are.... These are the socks I grabbed on the way to Florida when my father passed away suddenly in April 2005. They're the socks that kept me sane on the plane, and in the middle of the night, and when I didn't know what else to do. I didn't finish the second sock for a long time, so it's no wonder it's a different size. These are the socks that saved me, and they're the same socks that got me published for the very first time in Annie Modesitt's collection of essays called Cheaper than Therapy. I knit a couple of purl stitches in the toe of the first one just so I'd always know which ne I started that morning on the plane. I think maybe I'll put them away. Or maybe CA will wear them. I have no idea. Phew.
I also finally finished a very large cable swatch for Melissa Leapman in lipstick red Cascade 220, but I can't show you that. Very pretty and it seemed to go on forever.
February is also for Frogging: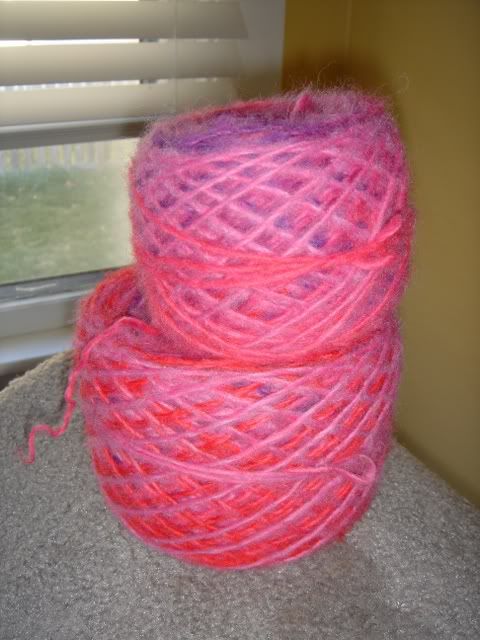 May I present Tubey, in Gedifra Softice I bought last May in Asheville, NC. It's now been ripped twice and is beginning to look a bit fuzzy. I think it will rest for a bit before I decide what it wants to be. I WILL make a Tubey - maybe just not with this stuff. Or maybe I will use it - it made fabulous random stripes.
And for Figuring Out What to do with the Brown Wool:
Here's the first test, spun on the middle Lendrum ratio and double plied. From this test I decided I'd go for a tree ply I'm up to a bobbin and a half, and spinning is the plan for tonight's tv watching.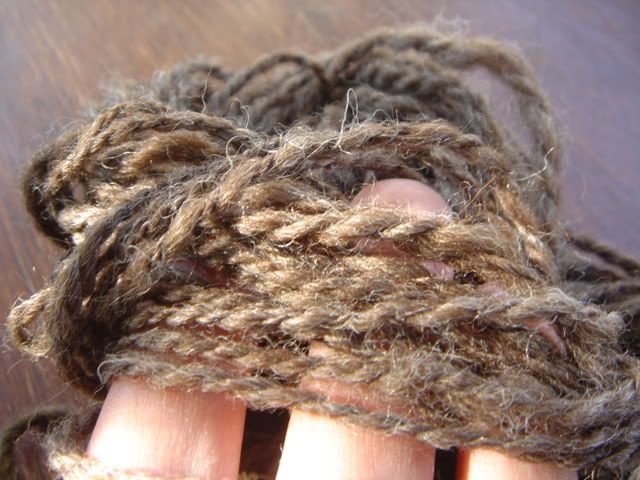 I think I'll frog one more thing before the end of the month, and I blame
BonneMarie
for this several years ago - can't remember. It's Le Gilet Long cardigan (scroll down - it's shown in purple/white) that was all the rage, and I had to have it because it was
French
, and it's all knitted but I could never get it to fit together properly to seam it up. It's probably a good thing since it's unlikely I'd ever wear a long, bright white and orange cardigan. The was a keyhole top pattern in that issue of the Phildar mag that I'll have to hunt down one day....