There's a smidge of evidence that we're getting close to the greens and balmy breezes of spring around here, aside from those few days of fake-out spring last week. The daffodils are blooming: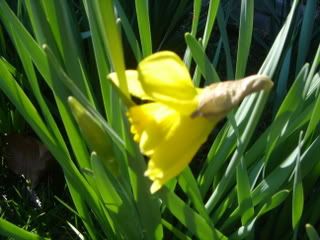 And there's some action in the tulip beds - I've never grown tulips before, and it looks to me like the flower is coming out of the ground first. Is that how they work? I hope not, because it's supposed to be a big mass of purple and white and NOT this strange wine-y color (quite true on my screen):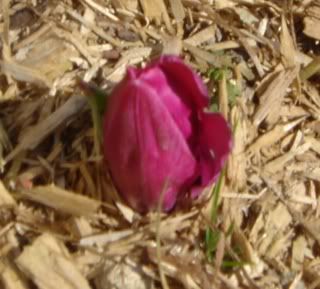 We'll see. I'm a few weeks into my chiropractic treatment and I probably undo everything every time I pick up my needles. I've been trying to get my left arm to do more work - it seems so unfair that my right arm/hand have to do all the work. I've trained the left hand to mouse quite capably, but my battle to get it to carry its weight is tough. I attempted to whisk some batter, and wipe out the oven with my left arm this weekend, but I get into it and my right arm gets all impatient and just grabs whatever from the left saying "just give it to me - I can do it faster!" We're working on it, me and my arms. Oh yeah - that gyro-ball I got to exercise my arms and wrists made my breastbone sore enough that I was sure I had a tumor and was getting ready to call my doctor. No tumor, gyro-ball making pretty as table art.
Me and these weenie arms have finished a 6-foot scarf for the designer I test knit for, and when I hit publish I'm off to give it a bit of a block before sending it away. I've rejeuventated the CeCecardigan from ChicKnits, but I'm thinking perhaps the cotton is making me more sore. I need to get some socks on the needles for mindless knitting, and figure out what I need to do for Knittapalooza IV which is fast approaching.