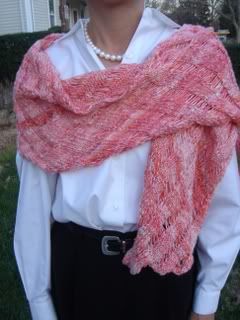 I can't decide if you should bow down to my yarn estimation powers or rub me to try to catch some of my dumb luck! (The man didn't tell me it was poorly draped - but it's a daylight shot AFTER work today!) This is how much was left: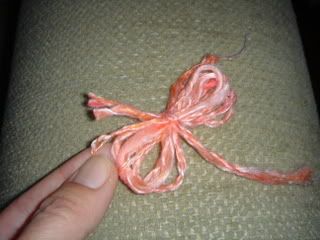 I don't think there are many more joyful things than wearing something I made – something that I dyed, stretched, spun AND knit is like heaven – I'm wearing my silk my Clappy as I type and I couldn't be happier. Okay, maybe if someone opened me up a yarn shop I'd be happier, but you know what I mean. To recap: this is 4oz of silk hankies from the Yarn Tree. I dyed them last summer with Kool Aid – my first fiber dye job ever.* I began stretching those 4oz of silk hankies on New Years eve, and continued stretching through the next weekend when I also started spinning. After a tangled setback, I managed to get about 410 yards of 4-ply from those hankies that never seemed to end. The end result, another Clapotis (an all-time perfect pattern) is, amazingly, just what I pictured when I started the whole adventure – slubby, funky, pink-y, useful – fantastic! I knit it on size 5 Denises - good stuff.
It did occur to me, however, after I sought help from a chiropractor yesterday for my weird shoulder, that it was indeed stretching those hankies that torqued my right side. If you're going to stretch hankies, do it with great care, take lots of breaks, and stretch a lot. Not that I mind a trip to the chiro – I could get very, very addicted to having my neck cracked. I spent 13 minutes on an aqua massage table too – wonder how I could get one of them for my house. I finally made the call yesterday after doing some neck rolls and hearing fantastic crunching sounds in one direction – ouch. A box containing my new PowerBall gyro arm & wrist excerciser and my GripMaster also arrived today - I'll be the knitter hulking out of her handknits someday soon!
Mind you, I'm NOT complaining about the silk, or my shoulder, or any of it - it's all been well, well worth the learning, the blood, sweat and tears, the celebration dances along the way, and a finished product I'm in love with. I will, someday, even spin more silk hankies, especially seeing as I bought a couple more ounces before I knew what I was in for! No, really - next time will be better, faster, smoother - bionic for sure!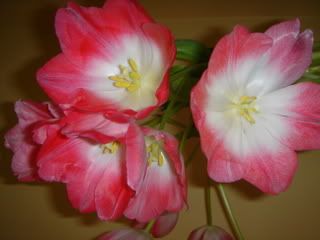 These tulips were from the girls at work for my birthday and match my silk perfectly. Pink has taken over in my life in the last few years. As the anti-twin, I spent most of my life vowing never, ever to wear pink because it was (is?) twinnie's fave. I wore black and red, she wore pink and pastels. I had Snoopy notebooks, she had Holly Hobby. Now I just can't get enough pink. It didn't even sneak up on me – just one day, out of the blue, I HAD to have a pink sweater. And I now have more pink sweaters, and pink earrings, and a wire bracelet with pink beads I knit, and this silk, and I don't see stopping. What is it about pink? I'm not talking Pepto Bismol pink, but all the other amazing corals and magentas and poppy colors. And yes, I still quote Pretty in Pink on a regular basis – Molly Ringwald saying "I can do lots of things" is a standard.
Next epic – the pound of brown cormo cross from the VA Fiber Festival. I'm slowly filling my first bobbin with what will be my three-ply yarn. Though the merino/tencel waiting for me in the cupboard is pretty appealing too. Must order more bobbins. I'm still goo-goo eyed over the infinite possibilities I have ahead in the world of fiber - the fun never stops, and I can plan on learning and doing different things forever!
*I was known for almost 20 years for my tie-dyed baby shower gifts – I did gazillions of onsies, but finally retired after my little sis had her daughter 3+ years ago. My fingers refuse to play with those little rubber bands ever again. But I certainly will enjoy them again, as I plan to torture the grown recipients of all of those onsies with photos of them wearing my tie dye - preferably right around when they start dating. (This is just one of the many reasons I shouldn't be a parent!)