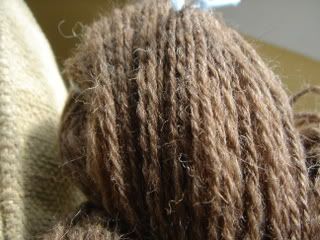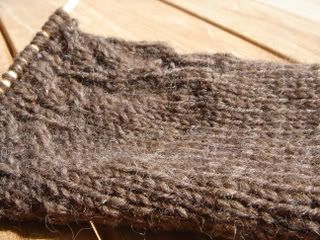 I've been busy plying,, and this 314 yards of worsted weight yarn is the result. It's my first three-ply and it's so
yarny
I'm thrilled. I've been knitting a swatch so I can make CA his cabled vest and I'm surprised at how evenly it knits up. I'm currently deciding between a 5 and 6 needle - the smaller one makes a nice dense fabric, and this is to be a warm vest.... A Knitter told me over the weekend it looked like worsted so I
couldn't
go below a size 6 needle. Don't tell me I can't do something, especially if I like how it's coming out. But I'll wash this swatch and see how it blooms - my gut is telling me at the moment that 6s will be the ones. It spent a lot of time being shown off and fondled over the weekend.
I'm spending waaaaay more time with this swatch than usual for three reasons: 1) I'm in love with my yarn -it's sproingy and firm and I just love it, b)I just finished a knitting weekend with Sally Melville and Cindy Taylor and I want to make things that work and fit, and 3) I've made two gorgeous cardigans that just don't fit the man. I'm even trying out different cable patterns here - this is big stuff.
I have SO much to say about Knitapalooza that my brain's spinning and I want to make sure my words do justice to the amazing weekend, so I'm working on that post. I will say now though that if you ever have the chance to spend three days with knitters, do it!