I've been stalling to write about Knitapalooza 07 since it ended a week ago because I know I can't express, with words, how soul-satisfying it was. But I'll try...
I've been to all four Knitapaloozas now, organized by the brilliant owner of my LYS, and they've all been wonderful in one way or another. I got to learn Beth Brown Reinsel's baby Aran, top-down sweater that I hear is a badge of honor. I learned to spin. I've met many fabulous knitters. This year though - spiritual. Mind-blowing. Life changing. I'm so very sure that this is the world I want to live in - the one with Sally Melvilles and Cindy Taylors and a bazillion others who didn't happen to be my guides for the weekend. I WILL figure out a way to live in this world of fiber, and to leave behind more than 20 years of office work - I will. Even though I'm terribly challenged in design, or pattern drafting - I know there's a place for me here somewhere. I've never felt so strongly that I was with the right people - I've been looking for my people all my life, and here they are. Knitters. Spinners. Yarn people. Pattern people. Let's start a commune.
I arrived Friday morning eeeearly and greeted somewhere over 70 knitters all wearing the same silly ear to ear grin that I was. All my chakras were wide open, every cell connected to the weekend, I was fully in the moment, alive, awake, tingling - it was like the angels were singing and the room was bathed in bright warm white light - really - I kid you not. And I don't do angels.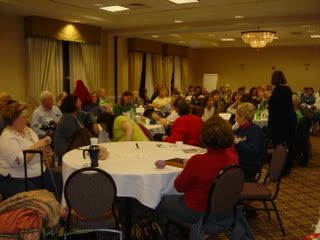 My LYS owner had told me early in the week that she had a surprise for me - aside from the fact that my Reynolds Whiskey order would be waiting for me. Drove me nuts, but I waited. I spotted my friend, and amidst all the chatter and showing off and seeing people we haven't seen since last year, the fashion show started. My first surprise was that my Modesitt Lace Corset appeared on a model - how flattering! After the fashion show, our LYSO had me stand while she announced that sign-ups for next year were open and, by the way, Annie Modesitt and Melissa Leapman will be teaching! I know I looked ridiculous, but I was jumping up and down like a little kid. (In fact, I'm delighted to report that I spent most of the weekend in full-on child's mind) I've never met either of these women, but feel like I know both because a) I'm test knitting Melissa's wild and crazy cable swatches, and 2) Annie responded immediately when I submitted an essay for consideration for the collection she was publishing almost two years ago, and she accepted my story and made me a published author in
Cheaper Than Therapy
! Wheeee! The knitting goddesses were certainly with me already, and we hadn't even finished breakfast. And then I won a door prize! I thought someone was going to have to tie me down - I was goofy happy. Two gorgeous, rich, sunny yellow hanks of Rio de la Plata wool - mmmmm.
I spent Friday in classes with Cindy Taylor of cindycindy.com, first in pattern drafting and then in Garment Therapy. She's so cool, confident, quirky and fun - and she's got a great approach to thinking about patterns. Even though the maths were causing brain shorts, I'm convinced that if I hear and think about and imagine making my own pattern, I'll eventually get up the courage to actually try it. Good stuff. Cindy's got a nice line of patterns coming out - make sure you click on over to see. I brought two garments for rescue: First, the gigundous fair-isle cardigan I did for CA that I've been considering cutting in half and grafting back together to lose some inches. We decided instead that repurposing it would be better - it's all mine now, to snuggle up in on a chilly morning on the beach! He'll get something that fits, and that he might really wear. I also brought my Vogue Knits Diamond pullover from 2004, which I spent so long trying to wear on Friday morning that I ran out of time to stop for a coffee on the way. I couldn't make it work, so I wore something else and brought it with me. The front points are floppy which makes the square neckline look hangy- makes me crazy even though I redid the neckline much better than the first time. When I put it on, the first thing I was reminded was that I was the only one seeing all the drooping from my point of view - everyone else was seeing the whole sweater. Still not good enough - so we turned it backwards - not so horrible. I think I'll try the crochet edging ONE MORE TIME. It's sooo pretty and it's CTH silk & merino, so it's soft like buttah. Cindy's big on finding new ways to use a knit - rather than ripping, she likes to keep moving forward. More good stuff, and new ways to think about the final product.
I don't think any of us managed to keep going and go out to dinner - we all went home and crashed Friday night so we'd be ready for a full day on Saturday - my whole day with the amazing Sally Melville. A little gift from the universe for me. She calls herself an old hippie and teaches with flair and humor and stories - amazing. She is the same age as my mom, and I felt like I knew her already. She talked about her super creative grown kids, and I called my mom after the weekend to say thanks again for her inspired creative mothering - this is all her fault for sure. Anyway, after spending the day with Sally learning about pattern drafting and making things that flatter and fit, and that my perfect balance point is 20.5", I will never look at a project the same way again. I've been a knit the next hardest thing knitter for a while, and now the next hardest thing I plan to do is to make something that fits me perfectly, even if it's an all stockinette sweater. I felt like an eager student in grade school, and I must have looked it too, because she asked me to model a little vest during the afternoon class - and then said I should wear it the rest of the day Saturday. Squee! This is in Celtics & Arans and is a bazillion random stitch patterns in cotton. She's wearing the fair isle skirt outfit from Color - I've wanted to make it, but now I WILL make it!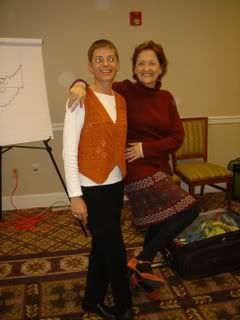 I had dinner with the gang and returned for Sally's "Ten Things A Knitter Hates to Hear" talk, which was a hoot and spot on, and went home to conk out before her "Creativity" talk Sunday morning. I felt like I imagine the devout feel in church on Sunday mornings - completely entranced, a believer, nodding, knitting, laughing, thinking. Sally used fabulous quotes from Churchill to quantum physiscists to Einstein to talk about and illustrate the creative process - phew. It all ended way too soon - it's so hard to walk out of that hotel each year knowing it will be a looooong time before the next time.
I'm still recovering, and my brain is still awhirl from the weekend - both the complete and overwhelming connection to this world and all the information... I'm having a bit of trouble concentrating. Good thing I didn't have a chance to sit still with a Board meeting and giant event at work - hah.