I lovelovelove Daylight Savings Time. Twice last week I realized I was squinting in the car at lunch and giggled to myself that the sun was, indeed, zooming across the sky to spring. Both days I was in a funk driving back to the job I just don't want to do anymore, and as I realized it was zooming towards spring the first time, I Want Candy came on the radio and I blasted it and rocked out all the way back to work. The second day, I was giggling about squinting and Sledgehammer came on - another fabulous opportunity to rock out in the car, singing badly and loudly, to arrive at work smiling. Good stuff - sun and fun music.
So the switch this weekend was fabulous, and my simmering spring feisty-ness is in full force - enough force to propel me to do this: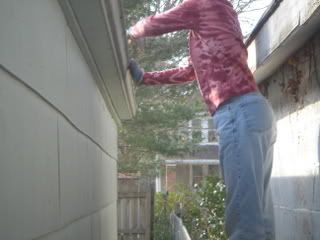 You have to know that I don't do things like this, mostly because I'm terrified of the crawling or slimy things I might find in such a spot. But, I refuse to pay gazillions of dollars to have my gutters cleaned, so we got the right size ladder this weekend and I climbed while CA spotted me. I love heights, and the gutters weren't nearly as bad as we imagined, so we cruised around the house quite handily. When we hit the detached garage, which is about 6 feet from the neighbor's garage, and that 6 feet is split by a ratty chain link fence, Captain America suggested he was going to tighrope along the fence to get to our overflowing-with-pine-needles gutter, but I reminded him that he hates heights and is about to have surgery on his bad and very painful shoulder. So, up I went. To bravely face whatever might be in there. I didn't find any spiders or particularly slimy stuff, got tons of gunk out of the gutters, and, oddly enough, smelled skunk the whole time I was up there. Which made me remember singing
Dead Skunk in the Middle of the Road
in the car as kids when we when we were hippies living in the woods of rural Pennsylvania. Which in turn made me picture our two big dogs getting soaked in tomato juice after the inevitable wrangling with the skunks in those woods. Turns out I had a damn fine time tip-toeing down the fence scooping gunk out of the gutter and wandering around in my head - go figure. (Yup - that's another fab tie-dye from CA - he's gooooood.)
I hope the return of the light may help my current scatterbrained approach to spring and spring cleaning. And knitting, and projects - too many to compute. I'm almost done with one Jaywalker sock, and while the leg was a lovely exercise in mindless knitting, my mind didn't want to cooperate so much on the foot. It's resting.
I started plying up my three bobbins of brown wool and zip-dang - it looks more like yarn than anything I've spun yet!
It's Knitapalooza weekend - and I'm going all three days again this year - my fourth. Three days of fabulous women (we've never had a man sign up) and guest teacher Sally Meville - I'm verklempt. This event somehow marks my knitting life, so while I didn't look back at New Year's, I'm now trying to figure out what the hell I've done since last year. I have no new sweater to wear, no new fabulous lace shawl to show off - all of a sudden it seems like I've done nothing since last year. Except learned to spin on a spindle, which started at Knitapalooza '06, procured copius amounts of fiber, and jumped with both feet onto the spinning wheel train. I've become a test knitter for a fabulous designer and knit countless complicated cable swatches and a six foot scarf for her. I've finished a few things, made two pairs of socks, felted lots of bags and moebious baskets, started both CeCe and Tubey twice - okay, I've actually done something. My Modesitt Lace Corset is on display helping to sell yarn at my LYS. And I will wear my hand-dyed, handspun, handknit Clapotis Saturday with pride bursting. And I will re-do the crochet neckline on my VK/Cherry Tree Hill Silk & Merino sweater from 2004 so I can wear it without fear of bra-straps or the jostling of a strapless bra. There - I feel better now - thanks for listening. Three days and counting!
My first crocus, that I planted in my very own yard - how satisfying!