The Swatch that Ate My Brain
And other random stories in an attempt to catch up.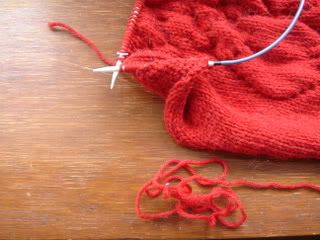 This is it. THE swatch. One of the bazillion I've been knitting for
Melissa Leapman
, she of the fantastic cables. Here's its sad story, from the beginning:


Begin knitting with one of the many balls of "red or burgundy" Cascade 220 in my house as directed.


15 or 20 rows in, realize I must have picked up a random ball of my Cascade 220, leftover from my Via Diagonale bag, and so rip and wind a hank from the box for Melissa's swatches.


Start over, but with such limited attention to detail that I spend a LOT of time ripping and reknitting this monster of an 89-stitch, 39 row repeat swatch. Rip to the beginning at least once, maybe more, but my memory is blurred.


Make two daredevil cable re-crossings at two different times, only to figure out on the next row, BOTH times, that the cables were correctly crossed to begin with.


Step away from the red monster, and complete three other cable swatches with no problem, attend Knittapalooza IV, drive to Philly to see the Tut show, read up on cabling without a cable needle again, and ignore it right up to the hours of forced knitting time on Good Friday while Captain America had shoulder surgery.


An hour into my fabulous, perfect-for-powering-through-the red-monster time in the waiting room, run out of yarn about 11 rows short of the end of three repeats of the 89-stitch, 39 row repeat swatch.


Two and a half hours into that wonderful perfect-for-knitting time, I get to the toe on my first Koigu Jaywalker, and after searching through my belongings, resigned myself that I had nothing to MacGyver grafting the toe with and watched a ridiculous Maury episode while waiting for CA hit the recovery room.


Find, at home, a small ball of the same color Cascade from another panel, and knit as fast as I can to make sure it was enough. It wasn't. Found another small ball of the same color and with a glimmer of hope, tried to make it the four more rows. I made it 2.5 rows. Even if I cut the long tail from the cast on and tried to push it - no way Jose. See those ends in the photo? Shyeah.


Throw it across the room.


Beg Melissa for a new panel so I can get this one out of my brain - I've already knit it, and I must now wind two new hanks of "red or burgundy" Cascade 220 and start the beast all over again. Oy.


I'm trying to stick to the bright side of the story - I did finally figure out how to cable without a needle, thanks to both Annie Modesitt on Knitty Gritty and
Grumperina's
very clear instructions. In all previous attempts, let's just say I was pulling out too early.
Let's see, what else? I finished plying from my three bobbins of CA's wool, and impressed the hell out of the cats with my eyeballing technique to making sure the bobbins were fairly evenly loaded: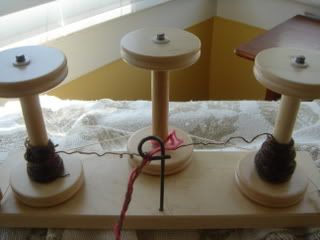 CA is cutting up my PVC as I type for a
full-sized Niddy Noddy
- yay.
I'm reading up on HTML for Dummies and WordPress in an attempt to get past my fear and conquer the layout of this blog. I've contacted my amazing blog hostess, Becky, and have an out should my attempt fail. My plan is to create a template from scratch following the book - and see what I can come up with. I get all flustered when I look at the stylesheets for the many templates I've tried, so maybe I can build one myself. Please don't hold your breath.