Stash by Surprise
I arrived home from work Monday evening to find this on my doorstep: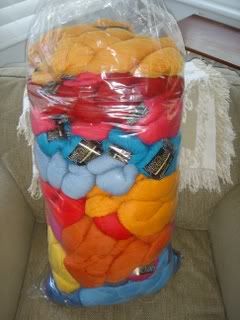 A staggering amount of yarn out of nowhere. Trumps my measly stash in one fell swoop. That's 65 skeins, to be exact, of Cascade 220. Direct from the manufacturer to me. Enclosed was a request from the very ambitious cable goddess, Melissa Leapman, asking Cascade to send it all to me, her "stitcher." Cowabunga! My knees got weak at the sight of all this wool - both because I love me some good Cascade 220 and could knit it in my sleep,
and
it means Melissa has a LOT of swatches planned for me and some unknown finish line in sight for her book. Phew.
Michelle Cristiani
just wrote a very accurate article about test knitting for Knitty - she tells it like it is. I'm enjoying this ride - I've learned a helluva lot about cables, can mostly accomplish them without a cable needle now, and will enjoy my 15 minutes of fame if I can spot my swatches in the book.
I'm vibrating with excitement about this weekend's MD Sheep and Wool - my first major fiber festival. Yes, there was the one last fall in Montpelier, but a n'or easter kept more than half the vendors away and I just have a feeling this one is going to knock my socks off. I have to get organized - Captain America is meeting me in Baltimore Saturday morning and is also looking forward to the festival. He's almost as into my obsession as I am, and he's pretty darned terrific, since with his work, going with me means he won't get to be home for two whole weeks. And on the subject of my fabulous man, he's graduated from physical therapy for his shoulder already - he's a champion healer. It's only been three weeks and he has less pain and more range of motion than before the surgery, and another few months from now, it will be almost as good as new. Amazing stuff they do for joints.
In other news, I spent a large chunk of the weekend proving I was good for something other than playing with fiber, and hung six faux-wood blinds in the back bedroom, instantly (or 3 hours later anyway) transforming the room from a cave to a fairly hospitable space. It's remarkable how huge the blinds make a room look - we're now two windows short of finishing the entire house with them - 38 windows!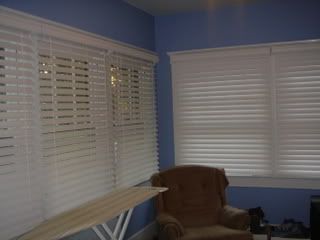 I got to wield the cordless drill/driver since CA shouldn't be doing heavy lifting - I love power tools. I came to our relationship with more tools than he, just for the record. I also learned to use the edger I got him for some occasion last year and oh, the power! I ripped an edge around my front beds - I could be dangerous with this thing. I also reclaimed two more front beds from the evil crabgrass that refuses to die or be pulled, and installed many bulbs in the hopes of some color there soon. The front yard is such a blank slate it's a bit overwhelming to make decisions, so until I get it planned out, I keep throwing things in here and there. The morning glory seedlings are coming up inside the back yard fence and I hope to eventually cover it with those lovely blooms.
While knitting out on Monday night, I swatched relentlessly for my first no-pattern sweater. I've picked the sweater to measure and copy - I just have to get up the nerve to do it. I love the Lasvold Silky Tweed and I think I'll do the top third of the little tee in seed stitch and the bottom in stockinette. Stay tuned and wish me luck.
These little guys were kicked out of the nest on my porch the morning after I snapped this shot: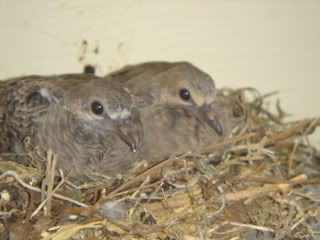 I like to imagine that momma dove is the same momma who made her nest in my hanging basket last year and liked us so much she's come back. This time the nest (more specifically, pile of sticks) is on the tip of a column in the corner of the porch. She left for a few days, but must have a boyfriend somewhere cause she's back, knocked up again, sitting on her eggs in that pile of sticks. Or maybe she told a girlfriend how sweet it was to hatch her eggs on our porch - hard to tell one dove from another.