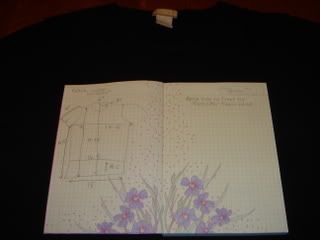 Keeps running through my head this morning. I've just measured my little black sweater to copy and I can't figure out why it makes me all jangly with anxiety. I was literally trembling when I finished the measuring and drawing. I know I can make this work, but I'm plagued with questions like "what do I do about the part of the top front shoulder where the seam actually rolls to the back" and "can a math phobic girl actually create a sweater using only a pencil, pretty notebook, and a calculator?"
I only decided to do this measuring this morning before work to escape the swatch. The beast is still out to turn my brain into jelly. I'm considering pulling out the cable needles again just for safety's sake. I think I almost managed to wrestle it into submission once again, but there's a dicey spot and after staring at it for a while, I realized I wasn't caffeinated enough to handle it. I need a break. I have another swatch pattern to start, and this tee should help flip my brain.
As we all know, the tools and paraphernalia of knitting or anything is critical to a project's success so I was very pleased to find this sweet little book on my recent trip to Anthropologie - it has some graph paper pages, some unlined, and pretty little flowers. The kind of thing you want to fill with only fabulous stuff: daydreams, pattern notes, responses to the universe - only lovely and good and creative things allowed in here. I filled in all the little boxes, including my purposeful 1 in the No. box, as if there will be many to follow. Acting "as if" is one of my favorite ploys to get through the hard stuff, so that's my plan here - I plan to act as if I can breeze through this exercise and turn out a wearable sweater all by myself.
And then there's Sheep & Wool. Sheep&WoolSheep&WoolSheep&WoolSheep&Wool. Knitbloggers, fiber, Captain America - it doesn't get any better than that.