I've braved the largest fiber festival in the country and survived - what a scene. Getting dressed to mingle with several gazillion fiber freaks was like getting ready for a date, and I spent time laughing at myself as I made, and discarded, a name-tag so everyone out there who was dying to meet me would know who I was (the dork with the name badge), tried on several outfits to maximize the opportunity to show off handknits (dork trying too hard), and went with my usual long-sleeved t-shirt and jeans with my original Clapotis (for warmth).
I flew up to Baltimore to meet Captain America, the world's best husband. The TSA and vendors in the Norfolk airport must have been taking happy pills - everyone was grinning and by the time they had my knitting needles out of my bag, I had my foot up on the conveyor to show off the handknit socks I was wearing. I was in Southwest's B cattle call line, so I took a seat in the middle between a giant man and a tall man in the third row so I could get right off the plane. I'm a little skinny thing - the flight was less than an hour - cool.
CA was surprised at the loooong line of cars going into the fairgrounds - not me. We parked in another county, but it was a reasonable day and the walk was lovely. I know I read about a knitblogger who was going to be there in her yellow VW camper and CA spotted it - damned if I can remember but hey - great yellow camper!!
I lost my mind immediately as expected. Things I know about myself but choose to occasionally overlook for an event of this magnitude: I have trouble with visual overload. I have no sense of direction, so going into one building and coming out turned me completely around each time - good thing CA was in charge of steering. I'm not so good at crowds. I am incredibly indecisive and sometimes a little too practical for my own good. I needed absolutely nothing going in.
We did all the outside buildings (pavillions?) when we arrived. I was surprised at the amount of yarn - it never occurred to me that there were so many small producers out there. I hadn't given a thought to patterns, have tons of stash, and so didn't spend a lot of time looking at it, though I did accost someone in the STR line so I could question her about its mystique. (I'm not sure I figured it out - but I only saw her skein.) I was there for fiber, if anything, and I have to admit that not only was I worried that I might find something more delicious at the next turn, but that I was sure I'd do it wrong when it came to buying some. Didn't occur to me to observe - do you just pull a hunk of roving off the balls or out of the bags? Do you wait to be helped? These are things I need to learn before my next attempt.
About 45 minutes in, this called out to me, and I'm not even sure what it is beyond 3 2oz, carded batts - fluffy pink clouds of softness: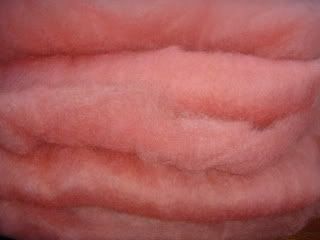 It was now past 1pm, the time of the knitblogger meetup - and I had no idea by this point where I was supposed to be. I'm not a particularly social person - most nights I'm in my pj's after work with my knitting and my cats. But fiber is changing that, and I find myself wanting to hang out with knitters - amazing. So even though I was feeling shy and dorky, I called
Mel
, had her describe her surroundings, and managed to spot her right off. She's exactly like I imagined - gorgeous and fun and she knows about the greeting squeal - I think it's a tribal thing. She's a pro - with her cutie husband Tad they were there for the second time and had the place scoped out and a systematic approach. I was all anxious and jangly and they were cool as cucumbers. Best thing about the festival for sure. Can't wait to see the picture of us! (hint hint)
We ate a funnel cake, hit the exhibition halls for more stuff, stood in the loooong line for this (worth the wait):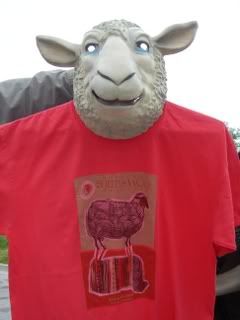 The t-shirts are gorgeous - great design, great colors. Yes mom, I got you a mask too! CA didn't think it would be a good idea to take the masks on the plane - something about security not thinking they were as funny as I do, so they're coming home with him later this week. I also bought a funky silk/wool scarf felty kit, and I think that's it. I wish I had been alone to make a stealth run at the end to pick up a silk bell and some of the "party wool" in a tub I saw but didn't just buy, but I was being nice to CA.
I wonder if the S&W people would consider a day for claustrophobics like me - I didn't like cramming into the little booths....
We wandered out past these two characters - they win the silliest haircut prize: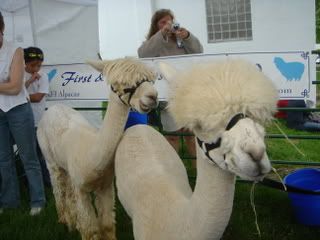 Besides these guys, there were so many sheep - bigger sheep than I've ever seen, soft, copper-colored sheep, goats, alpacas, angora bunnies like silver poufs, amazing animals. We managed to keep just missing shearings, but saw some clipping that triggered a memory of those hand clippers from back when I had a pet lamb....
A very sheepy, fibery, exciting festival - I'll go back. With a better plan, more research, and the hopes of actually taking a class. I feel like I'm still just at the outside edge of the spinning world - I need to break all the way into the circle (in my own mind anyway).