Finally
I'm back. May was a very, very strange month. But the reason for no posts is this: I decided recently that I needed a laptop if I was going to keep up with this blog thing in style. Because even though I have a fabulous desk and a new computer, the only place the desk fits is in a corner of the office, and I feel scrunched up sitting here, and I spend all day sitting at a computer at a desk, and it would just be so much nicer to write in the living room, from command central - my spot on the couch. So, turns out Captain America has a spare laptop hanging around. With a wireless access card that he used to connect to my little home network, Fabulous! That was three weeks ago. That bastard access card simply will not work. I'm about to take it to a big box store and pay them to wipe it and start all over. I've spent hours days in this scrunchy spot trying to make it work. I always think I know just enough to make something work - not this time. So uncle - I'm in the corner typing this post while I plot total domination of the laptop sitting next to me, feeling sorry for my non-wireless self.
I've been knitting - oh, I've been knitting. If only I was making something nice to wear. But I am challenging my brain and knitting up a ton of Cascade: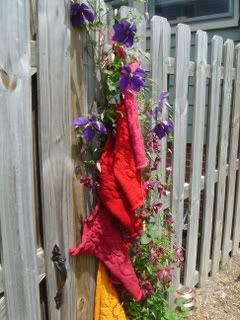 I posed these five swatches on my tangled up clematis plants on a pretty spring afternoon. The Swatch That Ate My Brain is in there - I finished it on Saturday, May 12th at 12:10pm after a marathon morning of determination, sweat, and enough yarn this time. Right behind it followed the other four, along with a sixth that was still on the needles at photo shoot time, but is now complete. This is a LOT of Cascade - most of these swatches are almost big enough to be the front of a sweater for me, or a sleeve at least. Sorry I can't show you the cables - incredible patterns - but you'll have to see those in Melissa's next book.
I really took that photo so I could show you this: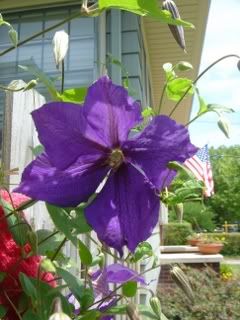 This is why I grow clematis, why I'm obsessed with them really, and it's the color and type of the first one I saw back in 1991 or so that got me hooked. I've grown them in pots, and the wine-colored one is seven years old this year. But the purple one - oh - it makes my heart sing. It's rich, and it made it all the way to the top of the fence this year. My hope is to see it someday covering the pergola, especially now that I've chopped down the strange inherited rose bush that was sharing its black spot with all its neighbors. There might be a third vine in there, and if it turns out to be white, I'll be in heaven.
I got a delightful phone call in the middle of the day Saturday from my LYS. The one that does Knittapalooza and is hosting Annie Modesitt and Melissa Leapman next March. Linda was calling to tell me she had just heard from the owner, who was in Columbus at TNNA and had just finished two classes with Annie, who was called the shop to check in and to ask Linda to call me to say "thanks for suggesting Annie!" How fun! How lovely to get such a call - I grinned the rest of the day. And to know she connected with Annie - fantastic.
Since the weather finally caught up with the date, we've been back to our usual weekend Outer Banks routine - down in the morning, back home by 2pm for chores. Or a nap. We see the same sights, year after year, and we enjoy the drive. Memorial Day weekend found a festival going on at the home of Graaaaave Digger, the original monster truck. We always joke as we pass the beast and sometimes his truck friends that we'll have our picture made there for Christmas cards - we finally stopped - there were so MANY monster trucks, and it turns out, an RC car race. Pretty hysterical - CA has several RC cars that he tinkers with, so we watched a few runs, and then took fun photos when the dust got too thick. Monster Mutt - couldn't resist.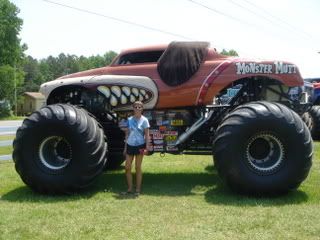 I've managed to even get some spinning in, but no photos. I navajo plied the pretty Kid stuff from the first Knitty spinning secret pal - I'm not so good at navajo plying. It's still on the bobbin - I'll probably have to put some more twist in to tidy up the bumps in the chain. I'm almost done with the first of the next of three bobbins of the brown wool for CA's vest - I hope I'll get to knitting that up in time for it to be a Christmas present.
Last, another excuse for a garden shot - this is the Lasvold Silky Tweed sweater of my own design (term used very loosely), posing with the morning glories getting ready to cover the inside of my backyard fence: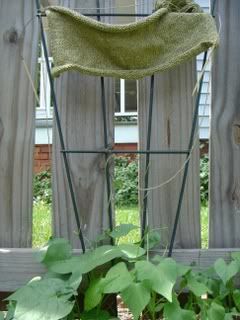 I'm up to the armhole bind-off, and after ignoring it Monday night, I got on the floor with pencil, pretty notebook, measuring tape, and the sweater I'm copying last night, and worked out the details for the armhole shaping and neckline for the front. I think. I used to believe I was a very good note taker, until I attempted to make one of the hundreds of recipes from my pastry school days and realized that nope, I was not. Still not - it will be oh so much fun to see how I do at making another piece for the back that matches this front. I also continue to amaze myself with my utter incompetence when it comes to any kind of math - and I'm someone who
enjoyed
calculus in high school! But I chug along, in between cable swatches.
Phew - I did it. You know how, if you keep putting something off, it gets harder and harder to get it done? This post - over that hurdle.