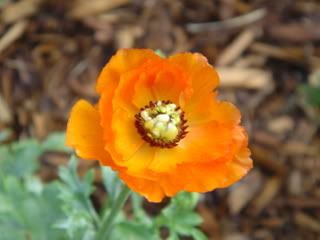 My haphazard garden is finally producing some fanastic results. Granted, of the bag of "spring planted bulbs" that included poppies, ranunculus, plus several other bags of already forgotten different bulbs, I have ONE single poppy - but oh, what a poppy. Besides granting me the opportunity to croak "poooopppiiiiies, sleeeep my pretty, sleeeeeeEEP, it's my latest favorite color and the first time I've ever grown one successfully. Mmmmm. Lots of the bulbs came up, but have only green leaves - no flowers in sight.
Next to the bulbs though is my big patch of cosmos - I tried again this year to grow the pink and white mix that's never worked for me before, and it's working!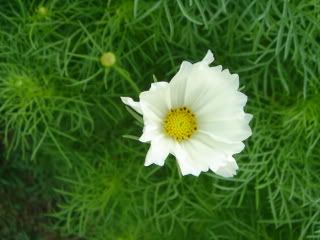 The pink bud is opening today - wheeeee! The yellow ones that I had in the same spot last year have insisted they get their place again this year with a bunch of volunteers: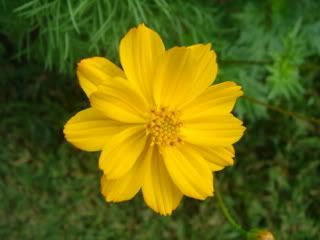 which is one of the things I love most about cosmos - they never go away.
I'm still on swatches - I hope to be done by the end of next week - whee again.
This morning, when I barged onto my porch with three big white trashbags, mama dove, who was taking a break from her sticks and hanging out on my porch steps, let me walk right down behnd her with all those bags crashing around. She scooted off to the side, but seemed to know I meant no harm. Yup, I'm sure we made a conection this morning - we have an understanding now. I bet she knows my voice, since I greet her every time I use my front door. I can't get up high enough to see how many eggs I have to fiercly protect now... I'm conjuring up complicated barriers for that pesky cat.
Off to a crazy day of Board meetings followed by a drive up to DC to do the big MRI scan over tomorrow morning. I'm tired already!