Or at least blogging from my corner of the couch, the place where all knitting and most other things happen in this house, because yes, I managed, finally, to get wireless! Zippity dooh dah. Here's how I did it: spent hours booting and rebooting and searching technical websites on the other computer over several weeks. Since about the second week of June I've taken a more desperate approach - avoiding the damned thing, and practically the whole room it was in altogether, with occasional delusions that if I just did that one thing, it would work, followed immediately with desperation and more avoidance. Until today, when I realized I could start with the lowest common denominator, the cheapest fix, and I bought a new adapter at Radio Shack (only because I was on a rare and stealth mission to the mall - no new summer purse, but a wireless card. I strongly dislike Radio Shacks, but I was desperate and braved the land of geeks.)
Anyway, $60 later, with absolutely no other pain whatsoever, here I am, in business on the couch. Yay me.
I have aboslutely nothing spectacular to talk about, and no fabulous new knitting to show you, so I took garden pictures. This is the clematis I hoped might be white: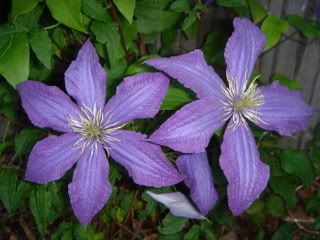 A second type of purple - just as great! The other has four-petaled flowers.And morning glories galore - the ever-reliable Grandpa Ott's, and several new colors from the mix I planted. Love these things - they grow fast and make me happy every single morning.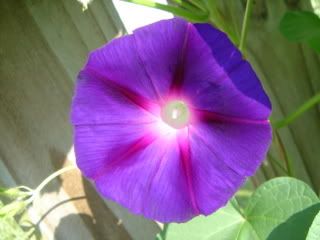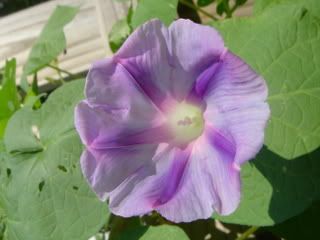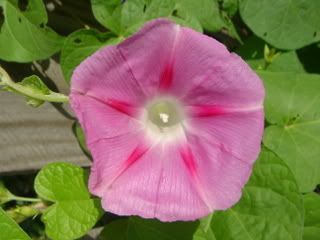 And my favorite thing in my garden every summer, my biggest joy, and also the one that causes me the most trouble and heartache - the tomato. I have two plants left from the batch I started from seed this year. I've grown all kinds - grape, cherry, roma, heirloom, purchased plants - all of them. And all I ever want is a good, fat, juicy slicer for my tomato sandwiches. And that seems to be the very hardest thing to get. I skipped the relentless cherry/grape vines - they never stop and I have tomatoes coming out of my ears. Nothing fancy this year - I did Burpee Early Girls and Big Beefsteak I think, and I'm down to two of one or the other - not sure which anymore. Despite too many cool nights and some blossom drop: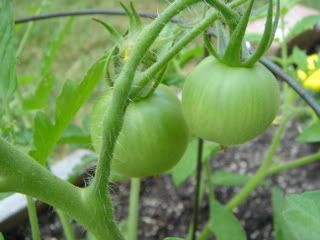 With more to come - I think tomato blossoms are happy and beautiful:
I'm obsessed with my garden - I dote, I admire, I encourage - so satisfying when it works.
I have a new dove pair on the porch - they spent most of this weekend deciding if it would work, building the pile of sticks that doves seem to prefer, and noodling around together up there. I don't think I wrote about the original mom, who was tending to her second set of eggs in the same spot. One morning in May, I was up at 4:30 and looked out the window to see her sleeping in the nest. I was knitting at 5AM when there was a horrible commotion and I ran to the window just in time to see the neighborhood alley cat making off with the mom dove. After he crashed the nest to the floor which crushed the eggs that were very near hatching. Awful. Horrible. I don't know why the universe decided I needed to see it all. I looked for her every time I went in or out for weeks. That event was the beginning of my apparently appointed role to bear witness to baby bird tragedies in the yard this spring - I found other unhatched and broken eggs and a baby who had probably fallen from the nest. I can only hope someday to know why I was chosen. So it's great that the doves are here - and I can now worry about them every time I come in and out.
I think the end is in sight with the cable swatches for Melissa Leapman - I believe I have the last two patterns in hand and one of them in process. When these are done, I will return to my little green tee. The design issue on the back has been rolling around and fermenting for a while and I think I know what I'll do to make it work, but my brain is a very dangerous place to keep this sort of thing, so I'm looking forward to pulling it out and getting to it.
Oh yeah - I've spun up a bobbin and a half more of the brown wool - not too exciting, but it's going swimmingly and I look forward to the day when CA wears it! I'm denying myself other spinning til I finish these three bobbins-full - that should give me close to 1,000 yards. I've found a rhythm with it and don't want to mess up by adding a different rhythm or fiber to the mix.
I've even made some inquiries around finding a way to make fiber my work... If you're reading and you're a yarn rep, I'd love to pick your brain!